M

Y

croarray Products
MYcroarray offers catalog oligonucleotide microarrays for most of the sequenced archaea and bacteria as well as some eukariotes too. If you do not find your organism of interest in our catalog, please inquire. There is a good chance we can make it for you.
We also specialize in making custom microarrays. Whether you send us your probe sequences or ask us to design them, we will make your custom arrays. You will have full control over the level of customization.
We offer a variety of microarray formats, from one array to 3 arrays and 6 arrays per slides. Multi-array slides are fully compatible with Agilent Technology hybridization cassettes and gasket slides for extra convenience. Custom microarray formats are also available per request.

MYbaits is a fully customizable liquid-phase DNA capture system for sequence enrichment in targeted sequencing. A MYbaits kit contains the necessary reagents for capturing genomic DNA fragments with biotinylated RNA baits and subsequently releasing enriched target sequences. Whether you are planing on capturing 50 kb or 50 Mb of targeted sequences from a few to several tens of thousand samples, we can make a custom kit for you. We will also help you designing baits for your project.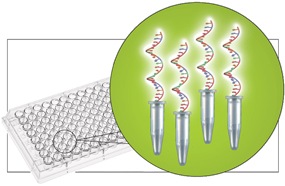 We combined our robust parallel oligonucleotide synthesis chemistry to a revolutionary molecule retrieval technology to extract only full length error-free DNA strands from each synthesis reactor. We routinely achieve a sequence purity greater than 99.9% per tube. Error-free oligonucleotides eliminate time consuming and expensive error correction procedures. They are poised to transform the field of synthetic biology by facilitating cheaper and faster gene synthesis and molecular circuitry design.
We have developed the technology to prepare large amounts of labeled single-stranded custom oligonucleotide libraries for detection and visualization of complementary nucleic acids. Whether your application calls for DNA or RNA probes, we will provide you with libraries of up to 20,000 oligonucleotides per batch, with user-defined sequences ranging from 30 to 60 nucleotides for improved specificity.
Oligonucleotides synthesized in parallel on our microarrays can also be cleaved off the substrate to make libraries. These libraries can be be used as sequence-specific primers in experiment requiring primer extension such as Primer Extension Capture. They can also be assembled into synthetic genes, or cloned in various vectors to be expressed into active RNAs or peptides. And since we can synthesize oligonucleotides of up to 150mer in length, you can express short proteins of up to 50 amino acids
We offer high-throughput sequencing services based on the 454 technology. Thanks to our GS Junior, we can deliver sequence reads for your amplicon and shotgun projects in a very short time. A GS Junior will deliver the same amount of data as 1/8th of a GS FLX System, but without having to wait for 7 other samples to fill a GS FLX sequencing plate.
---