MY

baits: Custom Bait Libraries for Sequence Capture in Targeted Sequencing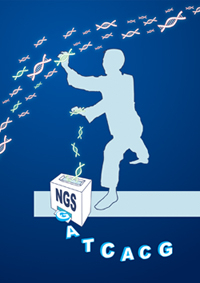 MYbaits target enrichment kits are fully customizable sequence capture probe libraries that enable targeted sequencing (i.e., targeted Next Generation Sequencing, or targeted NGS). MYbaits target enrichment is based on the efficient in-solution hybridization capture of target DNA using biotinylated RNA baits that are complementary to target sequences. Target enrichment with sequence capture kits, such as the MYbaits target capture kit, is commonly used to perform gene enrichment, loci enrichment, or exon enrichment (gene capture, loci capture, or exon capture) for applications such as whole exome sequencing. For such applications, we offer cancer exome capture kits and whole exome capture kits. Other applications where MYbaits have been used include: ancient DNA target enrichment where sequence capture is performed on highly contaminated and fragmented DNA, phylogenetic analysis of ultraconserved elements where target enrichment is performed on sequences that are highly conserved among various taxa, and candidate gene-based association mapping where sequence capture is performed on genes hypothesized to be involved in particular processes or diseases. In all of these applications, sequence capture is performed for the purpose of target enrichment prior to targeted sequencing. Performing targeted sequencing, such as whole exome sequencing, ensures that the sequencing capacity of your sequencing platform is devoted to sequencing your sequences of interest, making your sequencing runs more efficient. For more information on MYbaits target enrichment, download the MYbaits brochure (pdf).
Expert Service at Affordable Prices
We offer personalized customer service and competitive pricing for custom sequence capture probe libraries (bait libraries). Our design team has more than a decade of experience designing molecular probes and will work with you directly to design the sequence capture kit that meets your needs. The design is yours and you retain full intellectual property on your bait sequences. No strings attached. Our bait design is optimized by proprietary software (built upon the latest science of nucleic acid hybridization thermodynamics) to ensure your experimental success. Furthermore, we analyze each batch of synthesized baits for quality so that we can guarantee that more than 95% of your designed probes will be active in your kit upon delivery. Our pricing includes both bait design and manufacturing.
Products
Custom Target Enrichment kits
Custom Targeted Regions/Loci/Genes/SNP

Whether you send us pre-designed bait sequences or let us do the design, we will produce a sequence capture kit fully customized to your needs. We offer the highest flexibility on the market. See details and pricing

Custom Whole Genome Enrichment (WGE) Kits (for ancient DNA enrichment)

We have developed a technology to produce genome-wide baits to enrich whole genomes. This is particularly useful to enrich endogenous DNA from highly contaminated ancient DNA samples. See details and pricing
Catalog Kits
Pre-made MYbaits target enrichment kits have been developed for some common targeted sequencing applications. These kits have been thoroughly validated and are cost-effective solutions for common targeted sequencing applications.
Ultraconserved Elements (UCEs) Capture Kit

Ultraconserved elements (UCEs) are highly conserved regions of genomes shared among evolutionary distant taxa. They can be used to collect sequence data to reconstruct evolutionary history and population-level relationships. See details and pricing

Human Whole Genome Capture Kit (for ancient DNA applications)

Human genome-wide baits to enrich human endogenous DNA from highly contaminated ancient DNA samples. See details and pricing

Human Cancer Exome Capture Kit

The human cancer exome capture kit enriches for exons of genes that have been implicated in cancer. See details and pricing

Human Whole Exome Capture Kit

Exome sequencing is an efficient alternative to whole genome sequencing where only the coding regions of the genome are sequenced. The human whole exome capture kit enables human exome sequencing by enriching for exons. See details and pricing
Performance
We routinely achieve reads on target ranging from 60 to 80% depending the application. Even in the difficult case where baits designed from EST sequences were used to capture and de-novo sequence genes of interest from a complex plant genome, up to 80% of the reads were on target. An example of using baits derived from EST sequences to define intron-exon boundaries was presented at PAG XXI. For a list of publications where MYbaits have been used or recommended, click here
Platform Compatibility
MYbaits kits are compatible with all major "Now-generation" sequencing platforms. Instructions for implementation with library construction kits are offered in the MYbaits manual.